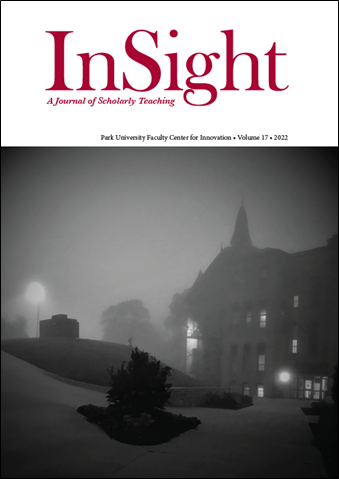 From the Editor…
It has been a year, hasn't it? In looking back at the editor's introduction I wrote last year while deep in the COVID pandemic, I remember thinking: Hey, infections are down; maybe next year, we will return to some semblance of normalcy! Alas, as I sit here reflecting on the last year, I think about all of the events that have affected (and will keep on affecting) students and faculty in higher education: COVID and its lingering effects, the Russian invasion of Ukraine, the fall of Roe v. Wade in the US, assaults on diversity and inclusion, reports of faculty burnout and the "great resignation" as teachers of all ranks seek out less stressful job opportunities outside education. Students report that their anxiety is at an all-time high, surprisingly worse than during COVID lockdowns. Enrollments are down in higher education, and that enrollment cliff we have been hearing about for a decade is just over the horizon. And in the middle of it all, higher education is rapidly changing in ways both good and bad, wonderful and terrifying.
One thing that sustains me and gives me hope, and perhaps reading this volume of InSight will give you the same comfort, is knowing just how many smart and talented colleagues we have doing the hard work, innovating in their practices, engaging and comforting students, and meeting these many challenges in higher education head on with determination. I am encouraged by the teacher-scholars in this volume to think differently about teaching: How can we more fully bring knowledge-making practices from indigenous cultures into our classrooms? How can we create a better sense of place and engagement for students though virtual technologies or through focus on community? How can we better prepare faculty for online teaching? This volume also showcases some excellent, and highly adaptable, implementations of innovative active learning strategies using experiential learning and gamification. Our InStruct article feels especially relevant to me in troubled times with a focus on mindfulness and gratitude as necessary components of our classroom practice. I am profoundly grateful for the scholars in this volume for giving me inspiration and hope!
Finally, I'd like to highlight our student editorial on the importance of the liberal arts. As Morgan Milledge compellingly argues, the liberal arts are fundamentally important for helping students develop skills relevant to any job, but perhaps more importantly for the present moment, the liberal arts also develop the kind of information literacy, critical thinking, and communication skills that are important for being engaged, informed, and vocal citizens in a democracy – skills we are going to need from our students now more than ever. I would like to thank all of the peer reviewers and authors for their hard work making this volume a reality. A special thanks goes to Dr. Jamie Els, InSight's Assistant Editor for her good humor, seemingly infinite patience, and exceptional work in getting InSight out the door every year. Many thanks also to Morgan Milledge, our outstanding editorial intern. I would additionally like to thank Lauren Lovvorn, our proofreader; this volume will be Lauren's last as she is off to bigger and brighter things, and we thank her for her years of excellent service to InSight. We are also grateful for the support of the Director of the Faculty Center for Innovation, Dr. Amber Daily‐Hebert, and Associate Provost Dr. Emily Sallee, Drs. Stacey Kikendall and Jean Mandernach, advisory board members, and the rest of the FCI team.
– Amy Mecklenburg-Faenger, PhD
Current:
Past: