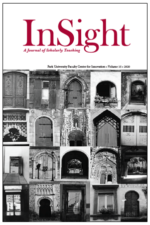 From the Editor…
As we are finishing this year's volume of InSight, we are in the middle of a global pandemic, an economic shutdown, and widespread protests about social, economic, and racial inequalities. No one could have predicted at the start of 2020 how quickly things would change in a few short months, and many of us are coping with unprecedented uncertainty about the future of higher education. However, there is one thing I am certain of, and it is this: The tireless effort and exciting innovation shown by members of the teaching and learning community gives me so much hope for our future.
I am therefore extra excited to introduce this volume of InSight which continues to showcase interesting and interdisciplinary teaching and learning. Our issue opens with an excellent editorial by Paul Hanstedt, author of Creating Wicked Students, who asks us to consider this question: in the wake of all this uncertainty and change, what really matters?
I think this volume acts as a (partial) answer to Paul's question: what matters to us is our students, their learning, working across disciplinary boundaries, and working to make universities better places to be, to teach, to learn, and to work. In this volume, you will read fascinating work that crosses disciplinary and genre boundaries by suggesting we use film and student diaries to teach bioethics (Seawright et. al), story-telling to build community in first-year seminars (Ehrlich, Ehrlich, and Haberyan), or poetry to teach legal writing to students (Nilon). You will also read about how double entry journals, somewhat commonly used in literature and other humanities fields, are also useful for teaching future engineers how to read more critically (Ives, Mitchell, and Hübl). Yet another boundary crossing is represented by Julie Ann Ward's article, which shows how asking students to create anthologies (a task typically done by faculty or publishers), not only improves reading/writing skills and content knowledge, but also results in free and open-source textbooks making education more accessible for everyone.
This volume also represents a significant look towards a brighter, more inclusive, future in higher education. Several articles ask us to consider how we can better prepare our future teachers by using professional learning communities to help students move from teaching learners to confident teachers (Nielsen and Lockhart), or how we can increase teachers' intercultural learning, so they will be able to better understand and connect with a diverse student body (Arshavskaya). In a similar vein, Danley and Williams suggest ways we could differentiate instruction in higher education to better meet diverse learners' needs and to more thoroughly engage students by giving them more choice and agency in their learning. This volume of InSight is a testament to our tenacity and deep commitment to improving higher education for everyone. I would like to thank all of the peer-reviewers and authors for their hard work making this volume a reality during an extraordinarily busy and difficult time. A special thanks goes to Dr. Jamie Els, InSight's assistant editor, whose knowledge and efficiency continues to aid and inspire me. I would also like to thank Lauren Lovvorn, our proofreader, for her excellent and speedy work. Thanks also to the director of the Faculty Center for Innovation, Dr. Amber Daily-Hebert, and Associate Provost Dr. Emily Sallee for supporting the journal, and to the rest of the FCI team for their feedback and support.
– Amy Mecklenburg-Faenger, PhD
Current:
Past: