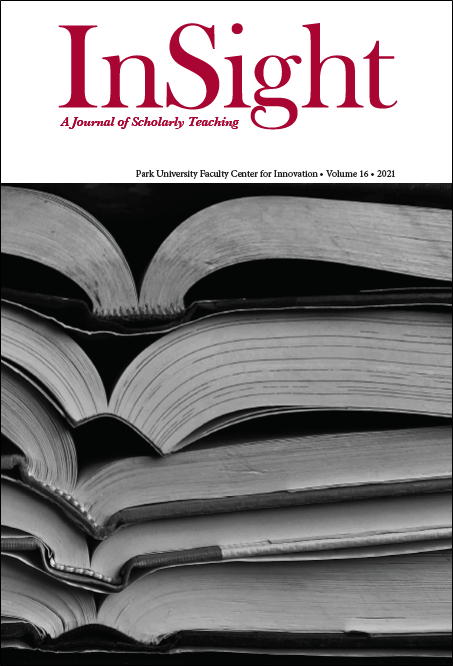 From the Editor…
2020-2021 has been a challenging year for those of us teaching in higher education, from lockdowns and mask mandates to economic crises and major overhauls of curricula. Many inequities of the academic system have been deepened by these crises, and many other inequities brought fully to light. One example is the data showing that journals are receiving fewer submissions during COVID, and the submissions they do receive show a widening gender gap, raising questions about overall equity and access for faculty researchers and teachers (King & Frederickson, 2021). The reasons why this is happening are numerous, including academic and employment status, extreme workloads created by reinventing curriculum and teaching online, gendered expectations, and socioeconomic status. It is no wonder then that journal submissions are down, especially from faculty whose teaching, service, and home life were greatly altered over the last year.
While this trend during the pandemic was not the impetus for some of the changes we made at InSight this year, it highlights some of the reasons why those changes make sense for our publication. Though InSight has always published high quality empirical studies of teaching and learning (and this volume is no exception), the focus on theory and empiricism can unintentionally overshadow the creative work done by practitioners of teaching in higher education. As James Lang points out in his editorial in this volume, empirical work on teaching does not start with a study; instead it starts with a "creative teacher [who] has a hunch, tries something new, [and] finds that it resonates with her students" (p. 11). It is only after the fact that we seek to theorize why something works, in what situations, and for whom.
One way we seek to value our creative practitioners and open up our journal to more accessible publication is the new section we introduced this year called InStruct. The purpose of InStruct is to allow faculty to share their creative and innovative teaching practices while still framing those practices within the scholarship on teaching and learning. The pieces are shorter by design, and we have encouraged more narrative-based reflective writing in order to value different ways of knowing about teaching and to provide alternative avenues for more faculty to share their work.
One other change you will see in this year's volume is a new student editorial on teaching and learning. So often, research on teaching prioritizes the values of the teacher, program, or institution, but students have perspectives on their learning that are just as valuable. This year, the InSight editorial team was joined by a student editorial intern, Taylor Lucas, who we invited to contribute a piece on a teaching and learning topic that she felt strongly about. The result was an amazing piece that advocates for contract grading, an alternative grading practice that prioritizes the process of learning and increases student motivation and agency. Ms. Lucas cites the research on efficacy of contract grading, shares her positive experiences with contract grading as a student, and invites you to try it out in your own classroom. We are excited to share this volume with you, and we hope you also enjoy the wider diversity of voices and styles that these new features represent. I would like to thank all of the peer reviewers and authors for their hard work making this volume a reality during an extraordinarily busy and difficult time. A special thanks goes to Dr. Jamie Els, InSight's Assistant Editor, for everything she does to help me get this volume out the door; I quite literally could not do this without her. Many thanks also to Taylor Lucas, our outstanding editorial intern. I would additionally like to thank Lauren Lovvorn, our proofreader, for her excellent and speedy work. We are also grateful for the support of the Director of the Faculty Center for Innovation, Dr. Amber Dailey‐Hebert, and Associate Provost Dr. Emily D. Sallee, Drs. Stacey Kikendall and Jean Mandernach, advisory board members, and the rest of the FCI team.
– Amy Mecklenburg-Faenger, PhD
Current:
Past: